Junk Removal & Dumpster Rental Clearwater FL Can Count On
For the best dumpster rental Clearwater FL has to offer, choose J&Z Dumpster Solutions for all of your residential and commercial waste disposal needs. We have helped contractors, business owners, and homeowners accomplish their goals of containing and disposing of their trash and debris for a range of repair, renovation, development, and cleanout projects. We take pride in keeping our customers on schedule and under budget with reliable and reasonably-priced driveway-friendly bins they can count on.

We're proud to provide low-cost rentals for customers with all kinds of projects and jobs in the Clearwater, Florida area. Along with top-quality roll-off container rentals to help remove the waste, we offer junk removal services to help clear away the waste so you can focus on the task at hand. We are a locally owned and operated company that cares about our customers finding the #1 dumpster rental Clearwater FL can depend on for your short or long-term waste removal needs.

Book the dumpster rental Clearwater FL chooses as the area's top choice for quality equipment, outstanding customer support, and affordable pricing. Homeowners with cleanout goals use our home dumpster rentals for a quick cleanup or a DIY remodel. Contractors trust us to get them the containers that they need on their schedule. Talk to our friendly staff, and we'll answer any questions about our services by giving us a call at (727) 236-7077. Our online booking is available at any time for your convenience. Click the "Book Now" button to get started today!
Holds 3x Pickup
Truck Loads
Holds 3x Pickup
Truck Loads
Holds 3x Pickup
Truck Loads
We Take Just About Everything
Some examples of the junk we haul away include
Refrigerator Disposal

Garbage Removal

Mattress Disposal

Foreclosure Clean Outs
Construction Waste Removal

Yard Waste Removal

Trash Removal

Appliance Removal
Television Disposal & Recycling

Furniture Removal

E-Waste Disposal

Hot Tub Disposal
Book the Dumpster Rental Clearwater, FL Contractors and Homeowners Use for All Projects
Use the local professionals and the best dumpster rental Clearwater, FL homeowners, contractors, and businesses depend on for a variety of projects. No matter what your project looks like at your residence, office, or construction site, you can depend on our quality services for all of your waste management needs. Our team will deliver a heavy-duty dumpster to your location on schedule so you can get your cleanout and decluttering efforts started and completed efficiently. Keep your job site streamlined and on the right track with the help of our professional, friendly, and dependable team.

Our easy-to-load containers are the perfect tool for your landscaping project, garden cleanout, and disposal of any broken or discarded items outside of your home. When you have a driveway-friendly dumpster rental Clearwater, FL residents trust in your yard or driveway, your trips to the dump are a thing of the past. We work with business owners and contractors for a broad scope of single-use or ongoing waste removal needs. Our flexible scheduling works on your behalf, saving you time and energy in the process. We partner directly with the Pinellas County Solid Waste Landfill to ensure that all waste is disposed of responsibly and according to city, county, and state regulations, so you can rest assured that when you work with J&Z Dumpster Solutions, we'll manage the waste in an ethical and eco-conscious manner.

Residential Dumpster Rental Clearwater FL Homeowners Use for Renovations and Cleanouts
When it's time to start that big garage cleanout or kitchen renovation project, use the residential dumpster rental Clearwater FL homeowners trust. Area residents and property managers depend on our easy-to-load containers to conveniently haul away all of their junk, trash, and broken items. Our flexible rentals are available to homeowners for one, three, or seven-day rentals, meeting your needs and saving you money.

We offer garbage dumpster rentals Clearwater FL homeowners know is an invaluable tool when you're removing old carpeting, fixtures, cabinets, or appliances. Our heavy-duty bins handle it all, containing bulky debris safely while you complete your residential repair, renovation, demolition, development, or cleanout. Confidently clear out your garage, attic, basement, or shed with the support of one of our bins. Give our team a call at (727) 236-7077 or browse our website to view available options and securely book online anytime.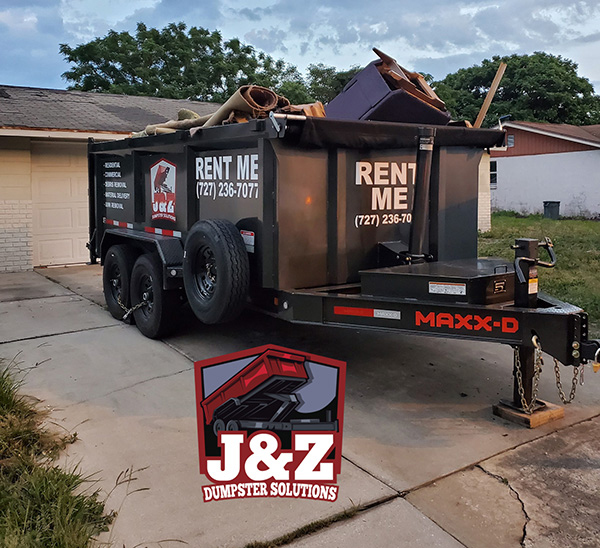 Clearwater FL Residential Dumpster Rental for Yard Waste and Outdoor Projects
With the help of our Clearwater FL residential dumpster rental, you'll be able to spruce up your yard in no time. Clean out your gutters, trim trees, shrubs, and hedges, replace your worn-out deck, and remove the old swing set with our easy-to-load, open-top bins. Our containers can manage brush, tree stumps, yard trimmings, and general waste. Please contact our company before loading dirt into the bin.

Book our small dumpster rental Clearwater FL homeowners can count on to handle the scope of your outdoor project and create a yard you will be proud of. Increase your curb appeal with a complete landscaping overhaul or clean up after a brutal storm with the added support of our roll-offs. Schedule a delivery online today!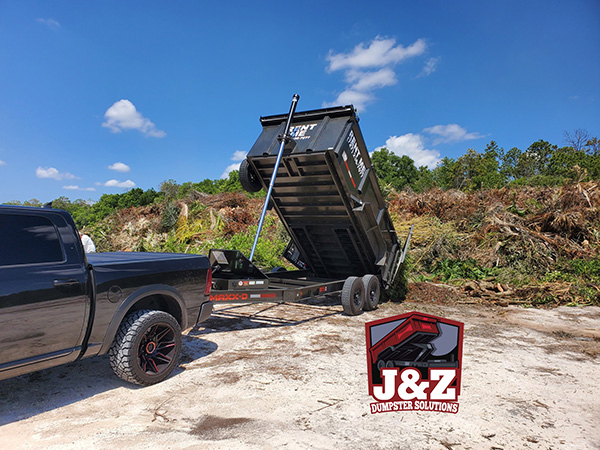 Heavy-Duty Clearwater FL Construction Dumpster Rental
Local contractors count on our Clearwater FL construction dumpster rental services for debris containment and disposal on the job site. Our customers, especially contractors, have a schedule they need to adhere to. Our team of courteous professionals guarantees on-time drop-off and pick-up for your convenience. Whether for a short-term or ongoing project, we offer cost-effective, streamlined solutions with a large dumpster rental Clearwater FL contractors can schedule on the fly.

Our heavy-duty Clearwater FL construction dumpster rental will contain and dispose of plastic, drywall, lumber, tile, plastic, and various waste materials from your job site. Use a local company that you can count on. Get in touch with our team for concrete or dirt disposal. Call our team today at (727) 236-7077, or book conveniently from any device on our website.

Construction Dumpster Rental Clearwater FL Roofers Rely on Year-Round
Choose the construction dumpster rental Clearwater FL roofers can't complete projects without. Having a reliable, heavy-duty dumpster on the ground to manage and contain roofing material waste is the only safe way to complete a residential repair, commercial replacement, or any other roofing endeavor.

Book the construction dumpster rental Clearwater FL contractors and construction professionals rely on to haul away shingles, lumber, tile, and other debris. Let us know where to place the container and you're ready to start the work. Partner with us on your next roofing job and we're certain you'll appreciate our upfront pricing on durable discount dumpster rentals Clearwater FL businesses, homeowners, and roofers trust.
Commercial Dumpster Rental in Clearwater FL
Word has gotten around about how reliable our commercial dumpster rental in Clearwater FL is for local businesses. We know that when you're running a business, the last thing you need to worry about is garbage and debris management. You don't have to when you partner with us. J&Z Dumpster Solutions is the dumpster rental company Clearwater FL can count on. Whether you're managing a foreclosure cleanout or preparing for an office park expansion, we're here to help.

Use a local dumpster rental Clearwater FL depends on for single-use or ongoing rental needs. We care about the success of your upcoming project just as much as you do and we give our commercial customers top-notch customer service. We are responsive and courteous, and value your ongoing business by providing top-notch options for a dumpster rental in Clearwater FL. Give our team a call at (727) 236-7077 and we can help determine your waste management needs.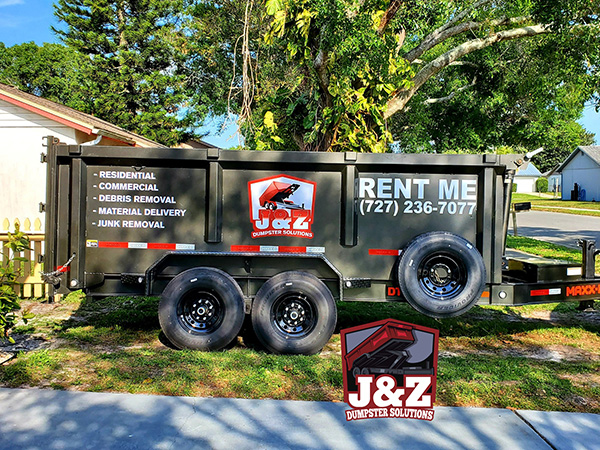 How to Book a Clearwater FL Dumpster
Booking a Clearwater FL dumpster couldn't be easier with our convenient, easy-to-use, and secure website. We provide you with a way to reserve the container that you need for your project at any time, day or night, and from any device and we always do our best to work with your schedule. If you have any questions about reserving a bin, give us a call at (727) 236-7077.

From any page of our website, click on the red "Book Now" button to get started on scheduling a bin online:

1) Select either a one, three, or seven-day rental.
2) Choose a size and click "Add to Cart."
3) Choose your rental date.
4) Review the dumpster prices and details, then click "Checkout."
5) Enter your information, dumpster placement, and a brief description of the materials you are disposing of.
6) Submit your payment with any major credit card.

Once you've submitted payment using our secure system, you'll receive an email confirmation with a digital copy of the receipt. Our team will send a text when one of our drivers is on the way to deliver your Clearwater FL dumpster rental. We're here to help if you have any questions along the way, so don't hesitate to give us a call about the budget dumpster rental Clearwater FL can't complete projects without.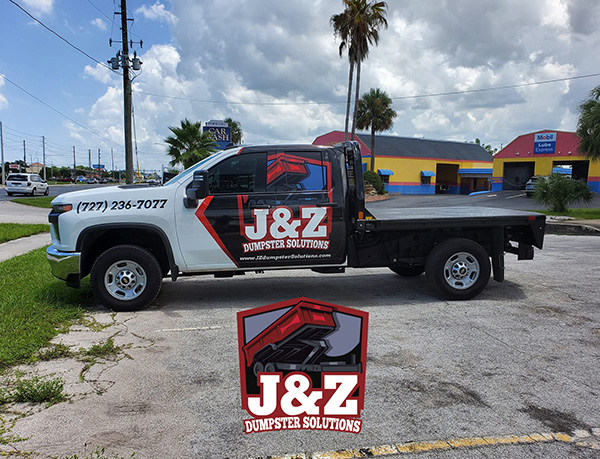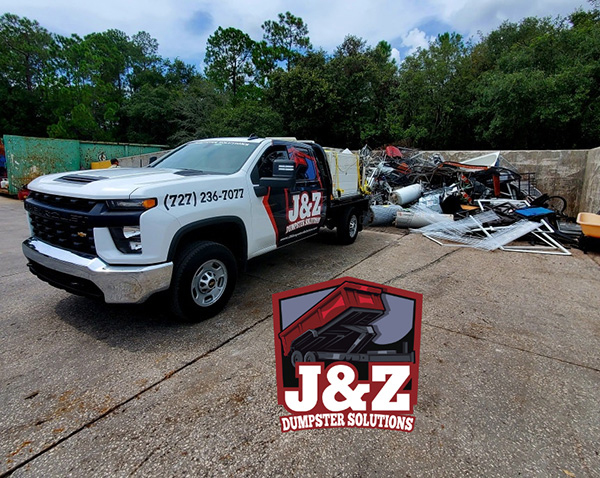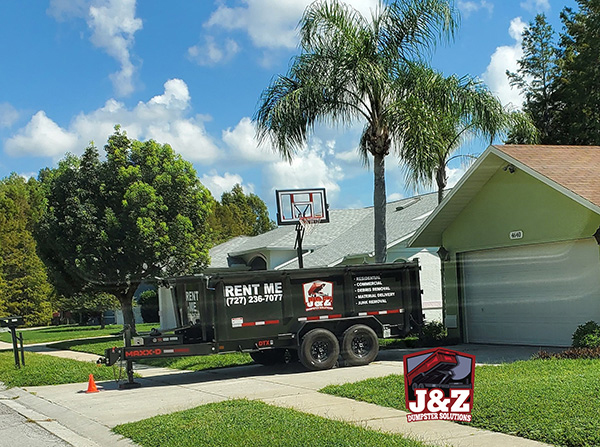 Sizes and Prices for Dumpster Rentals Clearwater FL Can Depend On
J&Z Dumpster Solutions has sizes and prices for dumpster rentals Clearwater FL can trust that will enable you to complete your job or project efficiently. We are committed to keeping our prices low, making it easy to budget for your waste disposal. Take a look at our sizing and rental options below then get started with the scheduling process through our website.

15-Yard Dump Trailer: Measuring 14' long by 7' wide by 4' high, our dump trailer begins at $325 for a one-day rental with one ton of waste disposal included in the base price. The dump trailer includes hinged doors for easy loading and can be placed on your driveway, in the grass, or on asphalt or gravel.

15-Yard Roll-Off: This rental measures 14' long by 7' wide by 4' high and begins at $325 for a one-day rental with one ton of waste disposal included in the base price. This driveway-friendly option is some of the most competitive dumpster rental pricing Clearwater FL has to offer.

20-Yard Roll-Off: The 20-yard measures 14' long by 7' wide by 6' high and begins at $425 for a one-day rental with one ton of waste disposal included in the base price. We have no doubt these are the best dumpster rental costs Clearwater FL can provide for contractors and businesses searching for larger container options.

Get in touch with our team for the most affordable dumpster rental Clearwater FL has to offer and get started on your waste removal project today! Browse our available selections online or give us a call at (727) 236-7077 to speak directly with our staff.

Delivering Clearwater FL Roll Off Dumpster Rental Options Across the Tampa Bay Area
We regularly partner with local businesses, community organizations, and Pinellas County Schools for their ongoing waste management and trash containment needs. We're proud to do our part in keeping our communities waste-free and enjoyable places to live and work in. As our cities continue to grow, we're eager to provide convenient and dependable options for a Clearwater FL roll off dumpster rental.

You no longer have to spend hours searching for an economical and efficient dumpster rental near me Clearwater FL can trust with the help of J&Z Dumpster Solutions. Browse our available selections, choose the best size for your specific waste disposal needs, and book online with a few easy clicks.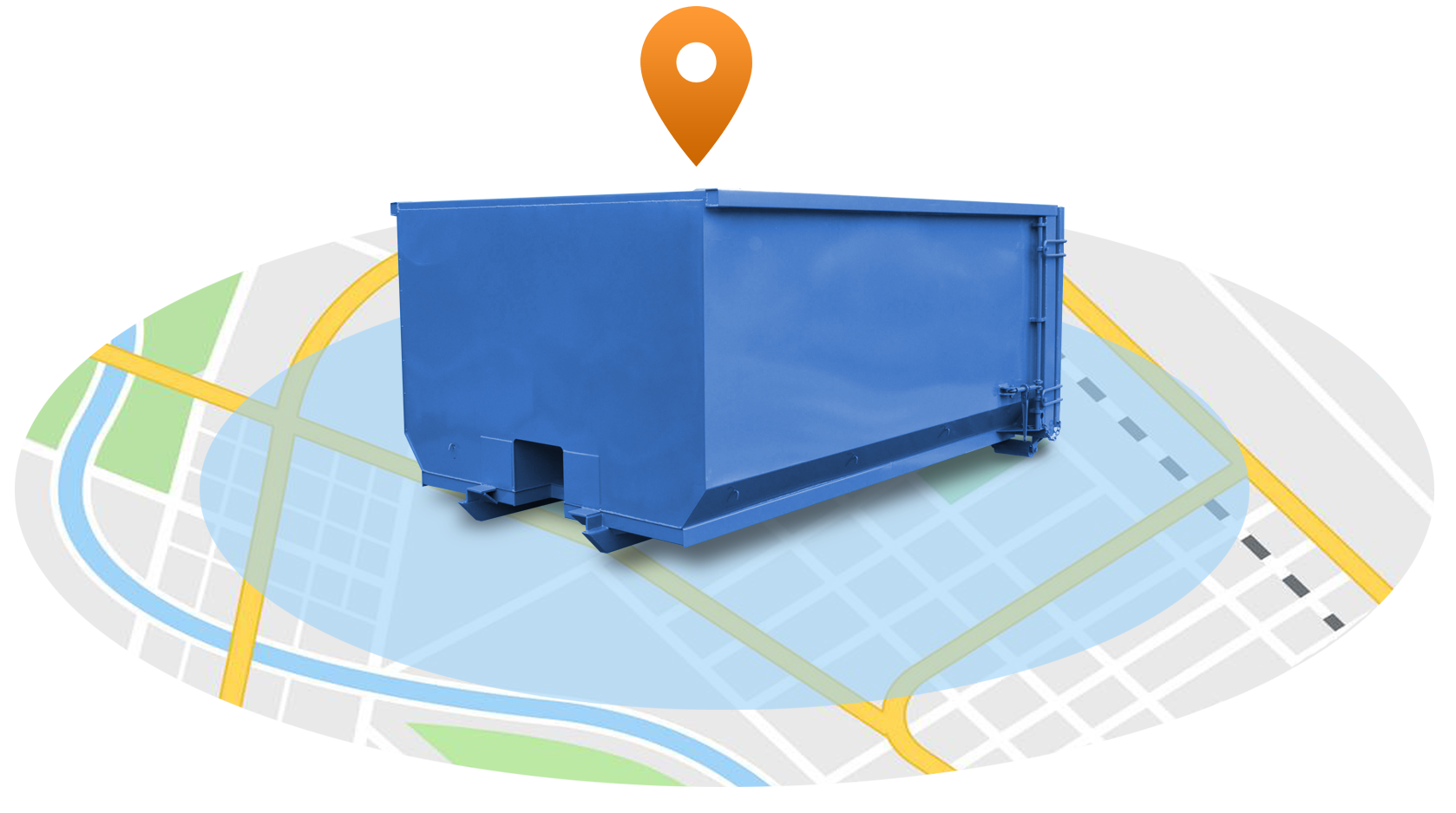 J&Z Dumpster Solutions delivers
Clearwater FL roll off dumpster rental
options to a broad scope of Pasco County, Pinellas County, and Hillsborough County in Florida. We're happy to offer delivery to the 33755, 33756, 33759, 33761, 33763, 33764, 33765, 33767, and 34695 zip codes, along with the cities of
Tarpon Springs
and New Port Richey.
Service Area
FAQs About the Best Roll Off Dumpster Rental Clearwater FL Has to Offer
Our team is here to answer questions about the best roll off dumpster rental Clearwater FL has to offer. Take a look at our frequently asked questions below and get in touch with our team if you need any additional information before scheduling your rental with J&Z Dumpster Solutions.
Q.
How much does it cost to rent a dumpster?
A.
The average cost of a dumpster rental Clearwater FL can count on varies based on the size of the bin, rental timeframe, and the amount of waste being disposed of. We offer standard rental timeframes for one, three, and seven days for 15 or 20-yard rental options. The single-day 15-yard trailer or roll-off option begins at $325 with one ton of waste disposal included. We understand many people are searching for a cheap dumpster rental Clearwater FL residents and business owners can depend on, but along with reasonably-priced selections, we prioritize high-quality rentals, on-time delivery, and friendly customer service.
Q.
What type of waste can I load into the container?
A.
We accept a broad range of waste materials, including refrigerators, mattresses, construction waste, yard debris, appliances, furniture, and general garbage. In an effort to promote sustainable practices and abide by local regulations, we do not accept hazardous materials including medical waste, gasoline, motor oils, liquid paints, or flammable materials. Please call beforehand for concrete and dirt. If you have any questions about what can be loaded into our roll off trash dumpster rental Clearwater FL trusts, get in touch with our team today for more information.
Q.
Do I need to be present at the location for the delivery?
A.
As long as we have specific details on where the bin is to be placed, we normally do not need you to be present when we drop off the dumpster rentals Clearwater FL depends on. Contact our team with any questions about placement or delivery.
Exciting Things to Explore in Clearwater, Florida
We're locals here in Clearwater, so we know you're interested in more than just a dumpster service. There's a lot to see and do in our fair city! So, let's dive into some of the best things to do, parks to visit, the city's rich history, notable landmarks, top-notch restaurants, and the schools or churches that shape our community.

Clearwater offers a multitude of activities to keep you entertained. Explore the pristine white sand beaches of Clearwater Beach, where you can soak up the sun, take a refreshing swim, or enjoy water sports like paddleboarding and parasailing. Visit the Clearwater Marine Aquarium, home to Winter the Dolphin, and learn about marine life conservation through educational exhibits and interactive experiences. For a cultural experience, catch a show at Ruth Eckerd Hall, a renowned performing arts venue that hosts a variety of concerts and live performances.

Our city is blessed with beautiful parks and outdoor spaces that allow you to connect with nature. Take a stroll through the picturesque Philippe Park, known for its ancient Indian mounds, scenic trails, and waterfront views. Explore Moccasin Lake Nature Park, where you can discover native wildlife, enjoy nature trails, and learn about environmental conservation.


Clearwater, Florida's History and Landmarks
Clearwater boasts a rich history that adds to its charm. Visit the Clearwater Historical Society Museum, where you can explore exhibits that showcase the city's past, including its early settlers, the development of the citrus industry, and the influence of the railroad. Learn about the spiritual heritage of the area at the Church of Scientology's Flag Building, an architectural marvel that stands as a prominent landmark in Clearwater.

Our city is also home to notable landmarks that reflect its unique character. The iconic Clearwater Beach Pier 60 is a must-visit, offering breathtaking views of the Gulf of Mexico, fishing opportunities, and a lively atmosphere with street performers and vendors. Explore the charming Cleveland Street District in downtown Clearwater, filled with shops, restaurants, and a vibrant nightlife.


The Delicious Food and budding culture of Clearwater, Florida
The best way to experience Clearwater is through its cuisine. Indulge in fresh seafood at Frenchy's Clearwater Beach Restaurant, a local favorite known for its mouthwatering fish tacos and signature grouper sandwiches. Enjoy waterfront dining at the Rusty Pelican, offering panoramic views of Tampa Bay and a delectable menu of seafood and steaks.

Education and faith are integral to our community. Excellent educational opportunities are available to students in Clearwater at schools like Clearwater High School and Countryside High School. The city also hosts various churches representing different denominations, fostering a diverse and welcoming spiritual community.

At J&Z Dumpster Solutions, we are proud to serve the Clearwater community and assist you with all your waste management needs. We understand the unique needs of our local area and strive to provide personalized service to our valued customers. We hope this guide helps you discover the countless attractions, natural beauty, rich history, delectable cuisine, and warm community spirit that make Clearwater an exceptional place to live, work, and explore!